2017 Chinese New Year will fall on January 28. It is the Year of the Rooster according to Chinese zodiac. It will be a great chance to experience the traditional folk customs!
Chinese New Year, also called Spring Festival, has more than 4,000 years of history. It is the grandest and the most important annual event for Chinese people.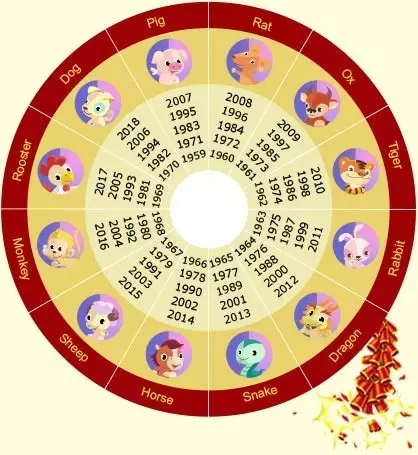 Time for Family Reunion

 The Longest Public Holiday

 Holiday Origins from Monster Nian
Based on the lunar calendar, Chinese New Year has no exact date and it changes each year, but it mostly falls on a day from January 21st to February 20th in Gregorian calendar. The lunar calendar also defines the 12-year repeating cycle of Chinese zodiac, and each year is named after an animal.
| Year | Date | Holiday | Zodiac Sign |
| --- | --- | --- | --- |
| 2016 | February 8 | February 7 – 13 | Monkey |
| 2017 | January 28 | January 27 – February 2 | Rooster |
| 2018 | February 16 | February 15 – 21 | Dog |
| 2019 | February 5 | February 4 – 10 | Pig |
| 2020 | January 25 | January 24 – 30 | Rat |
| 2021 | February 12 | February 11 – 17 | Ox |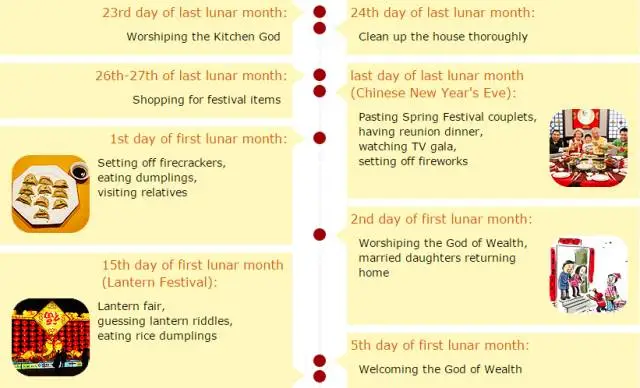 Before the Spring Festival, every family will have a thorough house cleanup and go for festival items shopping. The spring couplets, Fu Character, and animal paper cut are pasted for decoration. Also, new clothes must be bought, especially for children. At the reunion dinner on Lunar New Year's Eve, people from north will eat dumplings, which southern people are used to have Niangao (glutinous rice cake). Red Envelopes are given to kids and elders to share the blessing.

At the start of a Lunar New Year, Chinese people will take their daily practices as predictive signs for the coming year. Many bad words like "death", "broken", "killing", "ghost" and "illness" or "sickness" are forbidden during conversations. Crying, washing, lending and taking medicine are also considered unlucky.

In China, different places have their own traditions and activities to celebrate this grand festival. Beijing, Guangzhou, Xian and Pingyao with authentic folk activities are good places to go if one intends to come during the holiday.

Celebrations around the World
The festival is not only observed in China mainland, but also celebrated in Hong Kong, Macau, Taiwan, some Asian countries such as Singapore, Indonesia, Philippines and Vietnam, and also Chinatowns in USA, Canada, United Kingdom and Australia. The traditions also evolve into their unique ways of celebration.
Focus on:
We, eGTCP, welcome you to applying for GTCP(Great Tao credit purchasing card), you can get $10,000 immediately, buy more, pay later, let's get started!
Follow us: